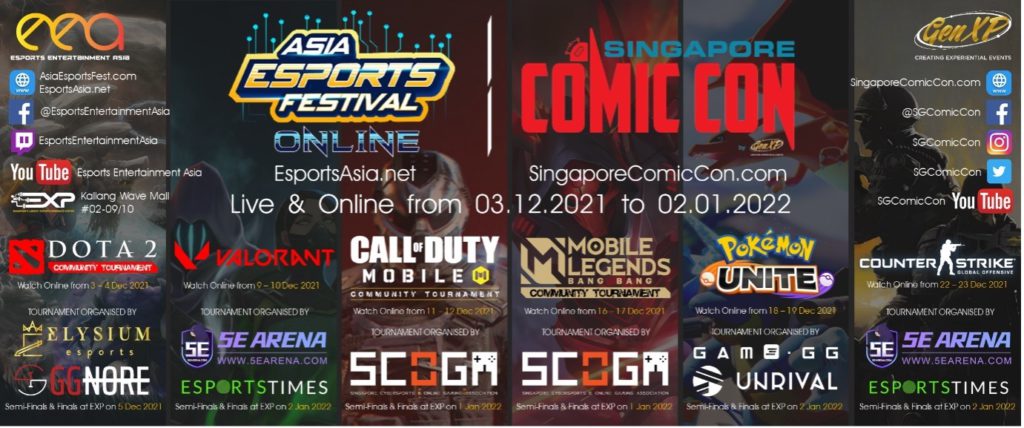 Generation Experience is excited to announce their partnership with Esports Entertainment Asia (EEA) to co-host the Asia Esports Festival (AEF) Online at Singapore Comic Con 2021.
Spanning across the 5 weekends of SGCC, tournaments for Dota 2, Valorant, Call of Duty Mobile, Mobile Legends Bang Bang, Pokemon Unite and Counter Strike: Global Offensive will be held online and live streamed via SGCC Online's virtual stage. The grand finals for all 6 games will be played live at EXP – Singapore's largest Esports Center, located at Kallang Wave Mall.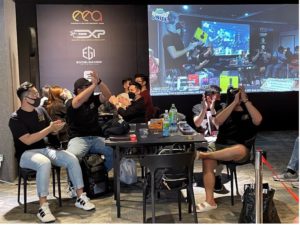 The Asia Esports Festival (AEF) is a mega-esports festival organised by EEA that features the broad genre of cyber-gaming and esports competitions, together with the esports-driven entertainment and youth pop-culture that captures the imagination of millennials.
"We are extremely excited to partner Esports Entertainment Asia to strengthen our esports offering at SGCC, and help grow the esports community in the SEA region."
– Michelle Lim, CEO/Founder, Generation Experience (Organisers of Singapore Comic Con)
"We are equally excited to partner Generation Experience to co-host the Asia Esports Festival (AEF) Online at Singapore Comic Con 2021. Despite restrictive measures under the prevailing Covid situation in Singapore, the AEF Online looks forward to engaging more esports enthusiasts and millennials in Singapore as well as overseas via the Singapore Comic Con 2021 platform"
– Johnny Ong, Co-Chairman/Founder, Esports Entertainment Asia (Organiser of AEF Online)
For more information about Asia Esports Festival Online:
www.esportsasia.net
www.SingaporeComicCon.com
Facebook:
EsportsEntertainmentAsia
SGComicCon