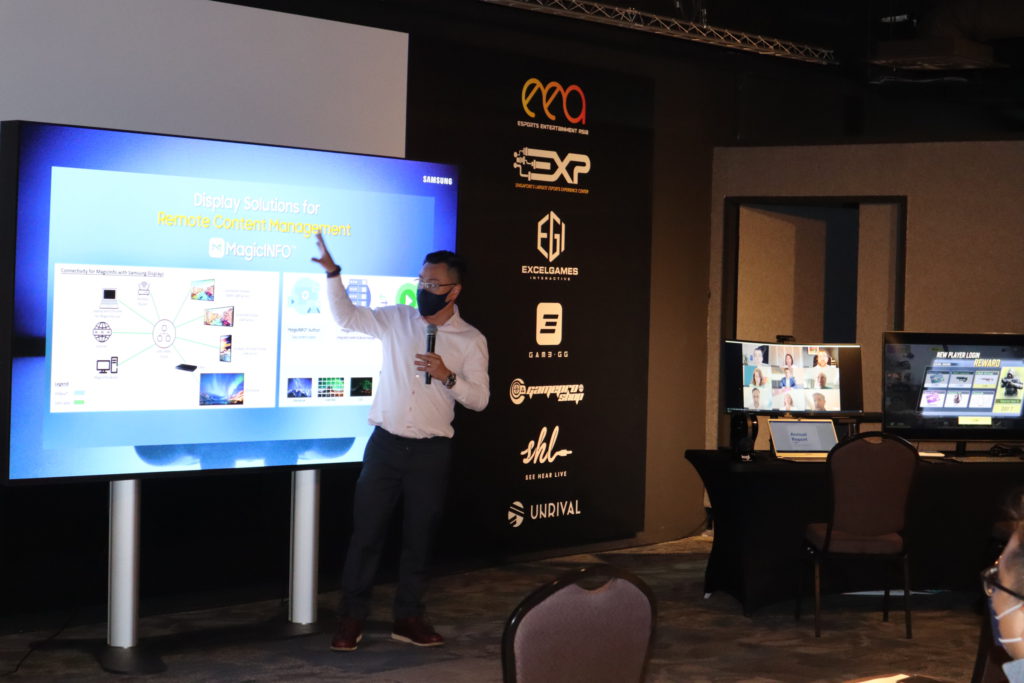 Together with distributor Electronics & Engineering Pte Ltd, Samsung held a seminar on 7th, 8th and 9th September to showcase Samsung's latest solutions at the Esports Experience Centre at the Kallang Wave Mall in Singapore.
A mix of system integrators, consultants, retail operators, education facilities and government organisations attended the seminar across the three days.
Daren Low, Senior Product Manager (Professional Signage) Display Business, Samsung Electronics, and Gerald Liu, Technical Consultant, Display Business, presented the latest solutions to the attendees.
With the event being held at the Esports Experience Centre, the presentation's theme was aptly "Reinventing the next-level of game play and experience with display solutions."
Daren Low presented on the Samsung Flip 55" interactive board, which was connected to the  Samsung Wall 0.4mm pitch Micro LED display. Showcasing the different capabilities of the Flip 55" interactive board, Daren referred to how it can also be used for strategising game play and training in an E-sports environment. Of course, examples of how the Flip interactive board could be used for other types of spaces was also highlighted.
Samsung's impressive The Wall MicroLED was the next focus, with Daren highlighting how the solution can be used as an immersive display and its versatility. Keeping to the current trend, Daren highlighted that the wall could also complement Hybrid/Virtual events and spaces.
Due to the diversified audience at the event, Samsung took the opportunity to showcase their Business series monitor A650 and Smart Monitor M7 series. The Smart Monitor enables seamless transition from office to home work.
One of the key highlights of the presentation was Samsung's MagicINFO version 9. MagicINFO is an all-in-one solution supporting content, device and data management. From content creation to publication and monitoring, users can manage content and devices on a single platform. MagicINFO 9 can analyse playback data and even sales data together to provide marketing performance reports.
Johnny Ong, Esports Entertainment Asia Co-Chairman, highlighted, "We are pleased that Samsung decided to use our facilities to showcase their latest solutions. Samsung displays are incorporated within our Esports Experience Centre and we are using their content management system as well."