Feel the rush as local creators showcase NFT artworks at Singapore's LIMITS Battle
When: January 21, 2022, Friday, 2.00pm to 7.00pm
Where: EXP, E-sports Experience Centre
1 Stadium Pl, #02-09/10 Kallang Wave Mall, Singapore 397628
Due to Singapore's COVID-19 restrictions for live events, please RSVP online at https://ucollex.io/limits-battles
The event will also be streamed live on UCOLLEX's Youtube channel https://bit.ly/3FXAUux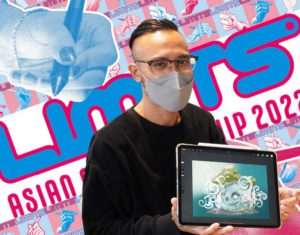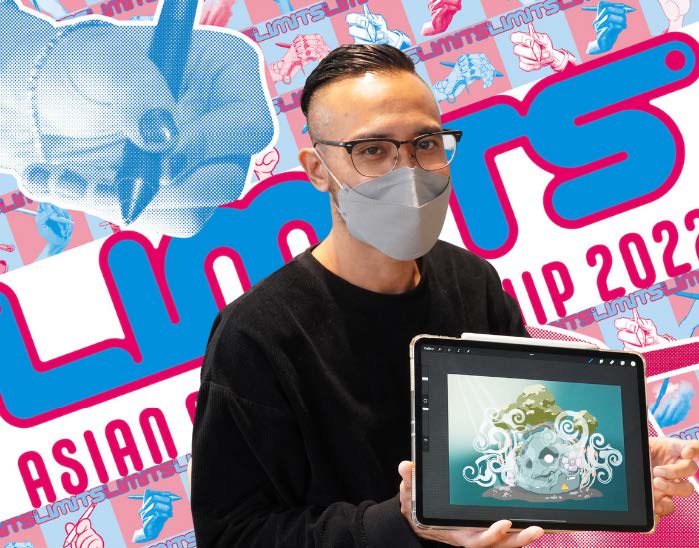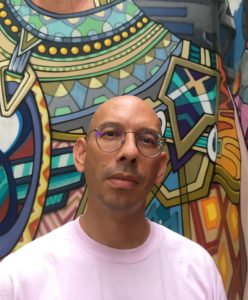 (L to R: ClogTwo and Jaba)
Top names in the street art scene participating in LIMITS include ClogTwo, known for his signature mechanical designs and has had lifestyle collaborations with brands like Adidas, Lego and Casio G-shock and Colombia-born Jaba who designed the stunning futuristic murals along Haji Lane and Ophir Road
LIMITS battle trailer: https://www.youtube.com/watch?v=wc75qzA8KCA
SINGAPORE, 18 January 2022- : The second leg of LIMITS Asian Championship is happening in Singapore!
Limits Battle will introduce excitement and adrenaline into our arts and creative scene through a live art battle. The Esports style digital art competition was conceptualised first in Japan, and this is the first time the event will be held in Singapore where some of the top artists, such as ClogTwo and JABA will gather to pit their talents against each other. LIMITS Battle is a head-to-head competition between two artists where an art battle will showcase the talents of some of the most renowned Singapore-based creators in the World's first digital collectible integrated art battle championship. For fans and enthusiasts of NFT art, this will be the first time in Singapore that they can observe how local creators design digital artworks in real time, and have the opportunity to see new styles and techniques emerge. The winner of Singapore's art battle will win US$5000 and a trip to Japan to compete on a global platform against other international artists from Asia and the Global Finals of LIMITS Asian Championship.
The digital artworks produced at the LIMITS finals will be sold as NFTs on UCOLLEX, a creators' platform backed by Animoca Brands, a leader in blockchain gaming. Animoca Brands has a growing portfolio of more than 150 investments in NFT-related companies and decentralized projects that are contributing to building the open metaverse. One of their most prominent projects The Sandbox has A-lister partners in their metaverse including video game company Atari, Hong Kong tycoon Adrian Cheng, professional services firm PwC Hong Kong and international stars like Shu Qi and Snoop Dog.
The creative showdown piques worldwide public interest in digital art and enables the appreciation of Singapore artists through a live event, where spectators will bear witness to the creation and conceptualisation of each artwork. With LIMITS, local artists are given a global stage to showcase their talents in front of a live audience and establish their provenance as the rightful copyright owner.
The first LIMITS competition was held in Osaka, Japan in 2015. LIMITS has hosted more than 500 artists from 16 different countries across all genres including graphic illustration, mural art, 3D toy design, pixel art, VR art, anime, manga, and more. The battles have brought together artists of all ages, genders and nationalities to test their limits, sparking collaboration and connection in a thriving community that continues to grow.
CLOGTWO, (Eman Raharno Jeman ), a Graffiti practitioner and visual engineer, is looking forward to competition day and shares, "LIMITS battle is fast, pressuring and definitely fun. It is a great opportunity to have a friendly battle with other peers and aspiring artists in Singapore. I am excited to be part of this e-creative competition where I get to live in the moment and challenge myself creatively."
ClogTwo's artworks are created on numerous mediums that transcend from spray paints to digital media. His signature style "MechaSoul" focuses on intricate mechanical designs and components, and revolves around the ideology of the psychological bond between mankind and technology. Some of ClogTwo's prominent lifestyle collaborations have been with various renowned international brands including Adidas, Lego and Casio G-Shock.
Before each match, a roulette wheel is used to randomly select two themes which will then be combined into an original theme for each battle round. Contestants will need to produce their creations within a limited time of 20 minutes and showcase their creative storytelling skills through their digital artwork creations. The time limit puts pressure and thrill, keeping the artists' creative juices flowing. Completed works will be scored by both the audience and judges based on idea, speed and technique.
Other talented creators that will be participating in LIMITS Battle Regional Finals in Singapore include:
JABA (Didier Jaba Mathieu) is a multidisciplinary creator whose artistic styles stem from futuristic abstract mathematics, alphabetical constructivism and facial cubism, brutally refined. He draws inspiration from his extensive travels and his background as a graffiti writer is evident in the complex alchemy of his illustrations and digital paintings. Born in Armenia, Columbia, Jaba moved to Liege, Belgium at the age of 14 to further his studies at St Luc Institution of Arts in Illustration. He has exhibited widely in art galleries around Europe and South America before relocating to Singapore to join Industrial Light and Magic (ILM) a division of LucasFilm Ltd where he worked as a concept artist and digital-matte painter on feature films such as Transformers, Iron Man and Star Trek. Jaba continues to participate in countless graffiti performances all over Europe, South America, Africa and Asia. As an extension to his enthusiasm and energy for illustration, Jaba also lectured at Nanyang Polytechnic in Singapore focusing on Matte Painting, Environment and Character design. In 2015 he released ENEMIES, a graphic novel published with Ankara Editions France.
INKSHEPHERD (Aaron Lin) is a passionate artist who loves to design Fantasy Worlds. He has been an avid gamer since the 1980s and pursued a career in the game industry in Japan (Koei Tecmo) and Taiwan (Soft-world) from 2003 to 2015 as a game art director for Triple A MMORPGs (massively multiplayer online role-playing games). His passion led him to starting his own VR game company in 2016. InkShepherd has also developed the Train to Busan VR experience with Vividthree as a VR Director and is also currently teaching VR Art and Digital Game Art at Nanyang Polytechnic.
IRONICAPUN (Veronica Tan) is the only female artist in the finals and a newcomer to digital art although she started drawing at a young age. She describes herself as a procreation hobbyist. Through immersing herself in art, she believes the world can be a better place. gDespite her hectic university schedules, her passion in art never ceases. She hopes to explore the endless possibilities that art can unlock for her by participating in LIMITS.
SNARES (David Low) is a full-time content creator and furry artist, with a strong passion for comic art. He has worked as a storyboard artist with various animation studios and has worked on a wide variety of projects across animated television series to short-format, web episodes. He is a self taught individual and learned Clip Studio Paint on the fly, after signing up for this competition. On the sidelines, his passions are deeply rooted in comic books and making them as a furry artist where his deep rooted influences started when he joined the furry fandom in 1996.
SHANQUANSQ (Shan Quan Thia) is an architect by day and a pixel pusher hobbyist that loves to create cool art. He mainly creates character concept designs and keyframes and enjoys participating in 2D art jams during his free time.
S.N.R (Subramaniam NANDA Rajeswar ) is an engineer by occupation but has discovered his calling as an artist/animator. He seeks to inspire and uplift the art industry through his manga-style art.
Guest Judges
Stanley "Artgerm" Lau has a strong sense of aesthetics and visual fluidity, and artistic work is striking and instantly recognizable. Born and bred in Hong Kong, the multifaceted Stanley wears different hats as an illustrator, designer, concept artist, creative director and co-founder of Imaginary Friends Studios (IFS)— a world acclaimed digital art studio that produces high-quality artworks for the likes of Capcom, DC Comics, Marvel Comics and other giants in the entertainment and gaming industry. Stanley's online art gallery on deviantART has been viewed for more than 50 million times and more than a million followers on social media.
Presently, Stanley and the 2 other partners of IFS are running an award-winning full-time diploma course in Digital Design & Illustration for aspiring artists worldwide, in collaboration with 3dsense Media School Singapore.
Sean Tay "Raiko"is known for his anime-style digital art of video game characters that are extremely detailed and meticulous. Singaporean artist Sean Tay – AKA Raiko, is one of the Art Leads for Legends of Runeterra at Riot Games. Prior to his position at Riot, he was also a freelance digital artist who was commissioned to create illustrations for other popular game titles such as Honkai Impact 3 and Genshin Impact.
"Ceno2" is one of Singapore's most recognizable names in street art, yet he doesn't refer to himself as an artist but instead introduces himself as "just a person who does art". He got his big break in 2012 when he was invited to Meeting Of Styles, an international graffiti event in Chicago. That led to him painting in various cities in Europe and the US, where he has proliferated hundreds of graffiti artworks.
Eddie Ching is owner and Curator of Artblovk, an independent gallery platform dedicated to showcasing and supporting emerging Singaporean visual art talent with a focus on pop culture and contemporary themes, particularly in the field of comics, films and games. An artist himself, he is focused on visual arts, animation, design and elevating indie artists onto visible platforms. Artblovk has worked with luminaries such as A Good Citizen (Singawhore, 2017 / Knock it Down, 2018), FsC (Ansuz, 2017) and Suiyoubi Noyoubi (Strangest Stranger, 2019, ALLERGIES, 2021) as well as a regular halloween showcase with contribution from leading illustrators and concept artists living in Singapore. In his free time, he indulges in graphic design, video editing, painting and miniature scale modelling. He is also the founder of local art collective Collateral Damage Studios (CDS)
To RSVP for the event, visit https://ucollex.io/limits-battles
LIMITS battle will also be live streamed at : https://bit.ly/3FXAUux
LIMITS Asian Championship 2022 event site: https://limits.global/
###
ABOUT LIMITS by P.A.I.N.T INC – Create. Evolve. Transcend.
LIMITS strives to drive support for independent artists, and promote creative pop culture around the world. The first LIMITS competition was held in Osaka, Japan in 2015. This innovative "Limits Battle" concept astonished the creative industry. Today, LIMITS is the first and biggest Digital Art Battle competition in the world. The creator community has grown to more than 3000+ artists in Japan alone, and over 500 artists have competed in the 3 world championships that have been organised.
■ Official web page https://limits.global
About UCOLLEX
UCOLLEX is the next-generation creators' platform that wants to make NFTs available to everyone, backed by Animoca Brands: a leader in digital entertainment specializing in blockchain and AI technologies. UCOLLEX aims to help creators build their fanbase economy with the best of class technology and community, shaping a world where fans can engage with the creator's metaverse. UCOLLEX provides a world where collectors can feel at home and live their passion for collecting through exclusive content, interviews with artists, the best 3D art, and innovative VR experiences.
■ Official web page: https://ucollex.io/
LIMITS Asian Championship Tournament Competition Calendar
・Taiwan:  January 16, 2022
・Singapore: January 21, 2022
・Hong Kong: TBC
・Japan: February – March, 2022
LIMITS Asian Championship 2022 World Finals
Japan Spring, 2022 
■ Global Contact: media@ucollex.io
For information, please contact:
Florence Ang on behalf of LIMITS
Email: florence@ellerton.sg
Mobile: +65 96911404