Singapore – WRAEK is excited to announce the launch of the WRAEK Tactonic Pro, the world's first palm controlled gaming device that lets gamers game faster. The official launch date for the Tactonic Pro is 1am, 27th January on Kickstarter.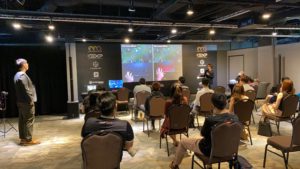 A hardware gaming R&D startup WRAEK has recently invented the world's first palm controlled gaming device here in Singapore – the WRAEK Tactonic Pro. It is a gaming device that combines a premium keyboard together with a mechanical wrist rest that lets gamers bind their keybindings to the pad that they can activate with a push. The 3 man team of youths from the National University of Singapore, believe that the gaming hardware industry has been stagnating and that the WRAEK Tactonic Pro will radically revolutionise the PC gaming industry by completely solving the issue of the current limited keyboard layout.
This innovation has already garnered the interest of thousands of gamers around the globe including world's no.1 Final Fantasy XIV gamer, Stal. The astonishingly low price for value at $169USD for a whole set of the Tactonic Pad and the Tactonic Keyboard to form the Tactonic Pro makes the product a definite bargain for any gamer's money. As a whole, the limiting layout of the keyboard that has been running on the minds of many in the industry for a while now, but WRAEK has finally made it into a reality.
Although the Tactonic Pro is going at an extremely affordable price, it still maintains state of the art quality. Using an ultrasensitive isometric sensor and highly customisable software for its Tactonic Pad together with a 5-pin hot swappable mechanical keyboard using Gateron switches proves its commitment towards revolutionizing the esports hardware industry which demands top quality equipment.
The Tactonic Pro was launched to jumpstart the innovation and progress of the esports gaming hardware industry and it could not have chosen a better moment. Currently, the industry has been seeing little innovation in each gaming product iteration while in contrast, the esports industry as a whole has been growing at an unstoppable pace. With its promising start other large gaming hardware brands are keenly eyeing the success of WRAEK and the Tactonic Pro.
Furthermore, the young startup boasts considerable support from experienced players.
Renny Yeo, ex-board member of Enterprise Singapore, sits on their board as a valued product development and business advisor. The team is also working closely with the owner of Esports Experience Asia (EEA), Johnny Ong, to host a press conference on the 25th of January and put up a product booth at Kallang Wave's Esports Experience Centre. As a fast-growing platform for all things esports, EEA has been an integral partner in the nurturing of WRAEK's presence here in Singapore. Other partners worth mentioning include SCAPE Esports, Claxon Gaming, NUS Enterprise and government support from Enterprise Singapore which clearly showing WRAEK's commitment towards making this revolution happen.
To launch their product with a bang, WRAEK will be hosting their product launch on Kickstarter with several renowned streamers
PR Contact
Name: Ryan Siah
Designation: Chief Executive Officer (CEO)
Email: ryansiah@wraek.com
Number: +65 9666 4907
List of social medias
Website: https://www.wraek.com/
Landing page: https://www.wraek.com/pages/official-motion-pad
Twitter: https://twitter.com/WRAEKGaming
Facebook: https://www.facebook.com/Wraekgaming
Instagram: https://www.instagram.com/wraekgaming/
Discord: https://discord.gg/D5WSP7fw
LinkedIn: https://www.linkedin.com/company/68324440/admin/
TikTok: https://vt.tiktok.com/ZSe6NM2s1/